Welcome to the Usagi Studios Wikia
Edit
This wiki is dedicated to Usagi Yojimbo, and other creations of master comic book writer and artist Stan Sakai.
The Usagi Studios Wikia is a collaborative database for everything related to Usagi Yojimbo characters, comic book series, films and television, and more. Because of the wiki format, anyone can create and edit any page on the site, so we can all work together to create a comprehensive database. Be sure to check out the Help pages to get started!
Please visit the UY DojoBoard to express interest in contributing.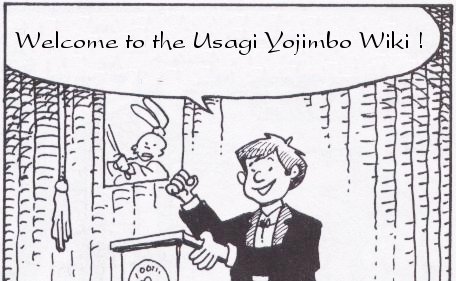 You can already read the very first articles :
Please, may we introduce you to the nicest guy in the comics industry, Stan Sakai, the creator of Miyamoto Usagi if you do not already know him.
Here are some of the characters that Usagi has crossed paths with : Kitsune, Jei,Inspector Ishida, Sasuké.
If you have discovered Usagi Yojimbo through the TMNT, you should enjoy this article Teenage Mutant Ninja Turtles
This wiki also includes information on UY's space opera spinoff Space Usagi
Sections
Edit
Click here to see all character pages created so far
List of Usagi Yojimbo comics published to date (under construction...)
List of Usagi Yojimbo collections published to date
List of links for Usagi Yojimbo articles in Wikipedia
Coming soon: Issue and story synopses
Usagi Yojimbo, and all related characters and elements featured on this wiki are ™ & © Stan Sakai, unless otherwise noted.
Characters
Edit
Collections
Edit
Latest activity
Edit
Ad blocker interference detected!
Wikia is a free-to-use site that makes money from advertising. We have a modified experience for viewers using ad blockers

Wikia is not accessible if you've made further modifications. Remove the custom ad blocker rule(s) and the page will load as expected.